Data Processing Services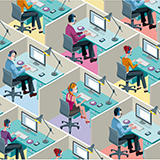 Focused Data Processing Solutions
Data processing can be tedious as it involves many processes such as data collection, analysis, data cleaning and also conversion of unprocessed data to a form that can be interpreted. Pan Tan Technologies offers a variety of data processing and extraction services of captured data. This is achieved by the use of the state of art technology, to automate the process and thus ensuring quality services are provided and at a short period of time.
Pan Tan Technologies' data processing services have ensured that their customers gained competitive advantage over other organizations in the respective industries. By assisting a wide range of industries and clients, Pan Tan Technologies have been able to assist them overcome challenges that involve data processing, such as summarizing information into intelligent formats, generation of important summary statistics on data and creating powerful ways of data presentation, such as tables and charts.
Typical day to day data processing services involve:
Data capture
Data analysis
Data coding
Data defragmentation
Data validation
Pan Tan Technologies provide their clients and customers the most comprehensive and eminent data processing services, by putting into good use the information provided to them, to convert raw data into useful information. The data processing services ensure that the businesses of their clients run smoothly by giving them time to concentrate on them rather than doing the data processing themselves.
In the field of data processing services, Pan Tan Technologies can enable their clients and customers to: structure, restructure, format, report, modify, update, index or build effective data management tools to sort, track and retrieve data by just a few clicks.
Pan Tan Technologies' data processing services include:
Data editing service
Data cleansing service
Data indexing service
Data mining and ware housing service
Data analysis and authorization service
Cheque processing
Insurance claim processing
Image processing
Form processing
Survey processing
Optical Character Recognition cleansing
Pan Tan Technologies' processing service is the ultimate data processing tool that assists its clients to manage all their data processing requirements comfortably. Data processing services at Pan Tan Technologies are well guided processes that are carried out by well experienced and highly skilled workers, using modern technology. Data processing services are offered on a 24 hour basis, throughout the week.