Pega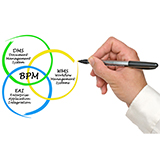 Course Information
PEGA is an enterprise service application that acts as an Integrated development environment (IDE) and helps to build applications. Pega runs on JDK Tool kit and is used to develop UI,data access logics, validation rules etc.This tool is used to reduce coding and build multilevel systems at enterprise level. By using PEGA module work becomes as faster and easier. It rapidly responds to new business opportunities and challenges.
There are different benefits in unique format in pega's 7 platforms:
Direct Capture Objectives
Situational Layer Cake
Omni-Channel UX
Case life cycle management
Next Best Action
PEGA PEGA tool is also known to be 'PRPC' Pega Rules Process Commander. RPC provides platform and interfaces to business analyst. Pega is a Business Management Tool.
Core topics of PEGA 7.1 PRPC Online Course
Introduction to PRPC
Introduction to User Portals
Introduction to Fields and Data Elements
Introduction to UI and Form Design
Introduction to Process Definition
Working with ClassGroup/WorkPool
Class Structure and RuleSets
Creating a Data Model
Create a Property Using the New Rule Dialog
b.    Change the Appearance of a property
c.    Create properties Using the Define property Wizard
d.    Create Embedded properties
e.    Create a Data Table
f.    Set Initial Values a Model Rule
g.    Check-in/Check-out Functionality
Process Definition
Create a  Sub-flow
b.    Create a Tabbed Screen Flow
c.    Call a Sub-flow from a Starter Flow
Case Management  (New in Pega 7)

Stage based case management

User Interface
Create a Section
b.    Create a Section Containing Multiple Layouts
c.    Adding a Section to a Flow Action
Advanced UI
Conditionally Display a Layout Using a When Rule
b.    Conditionally Display Property Fields
c.    Create a Dynamic Select Control
d.    Repeat layout( Row/Tree/Grid)
Dynamic Layouts  (New In Pega 7)
Decision Rules
In depth explanation on Activities and its methods.

Obj- Methods
RDB- Methods
Validation Methods
Property- Methods
Page- Methods
Flow- Methods
Commit/Rollback
Exit-Activity & Activity-End
Call & Branch
Other Methods
Advanced Concepts
Assigning the work

To Work List
To Work Basket
To Skill Based Work Basket
To Current Operator
Creating Work Group / Work basket
Validation
Types of validations
b.    Difference between Rule-Edit-Validation and Rule-Obj-Validation
Declarative Rules
Data Pages  (New in Pega 7)
Advanced Activities
Create an Activity with a precondition and a Transition
b.    Create an Activity to Populate a Dynamic Select
c.    Create an Activity to Write Data Table
SLA( Service Level Agreements)

Define an SLA
Assigning SLA to Assignment
Assigning SLA to Work-Object
Testing SLA

Integration Connectors
Connecting to External Data Base Using Connect-SQL
How to Use Dynamic SQL When Connecting to External DB
How to Send a Correspondence (E-mail)

Manual Correspondence
Automatic Correspondence

Correspondence Fragment
Configuring E-mail (Inbound/Outbound)
Configuring Web Services (SOAP).
Migration/Deployment (Import & Export)
Working with Agents

Advanced Agents
Slandered Agents

Debugging tools

ClipBoard
Tracer

Documenting the Application